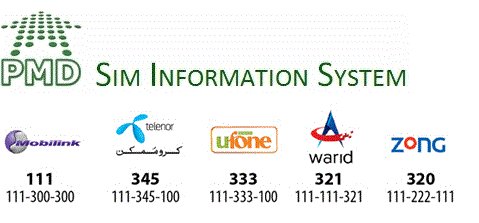 All you need to know about the SIM Information System
PTA is a government organization that is responsible to manage and organize the telecommunication system of Pakistan. As the availability and prices of mobile phones became convenient in the mobile phone market, the rate of the general public purchasing cellular devices increased drastically. In 2009, a new and more advanced SIM information system was introduced by the PTA, which was introduced to maintain a digital record of the people subscribing to the SIM cards.
One good thing about this system is that it allows the SIM card owners to keep a check of the number of SIMs which are active against their CNICs. Therefore, it is extremely important that you know the ins and outs of the SIM information system and how you can use it and do the PTA check online. We are here with a detailed guide of how you can find all the details about your SIM card and get them registered with your CNIC number.
How many SIMs can be Registered against one CNIC number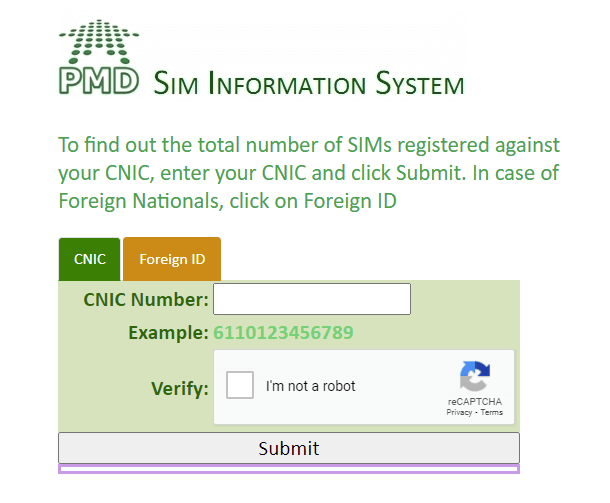 According to the Pakistan Telecommunication system (PTA), every individual citizen is allowed to register a maximum amount of 5 SIM cards. However, be it your first SIM card or the fifth, you will have to go through the process of getting your SIM card registered against the CNIC.
How to check active SIM against your CNIC
There are two ways through which you can check how many SIMs are active against your name and get all the information related to it;
The first is by checking SIM information through the website.
The other source is checking through SMS.
PTA Biometric Verification System
The PTA Biometric Verification System for Pakistan was introduced to ensure the safety of mobile phone subscribers and control the misuse of wireless connections. The PTA Biometric Verification System started its work in collaboration with NADRA. As a result, it uses the digital CNIC records to verify all the mobile phone subscribers. The SIM information system handles the following areas of work;
Buying or activation of a new connection
Obtaining a Duplicate connection service
Changing the ownership of any kind of connection
Mobile Number Portability (MNP)
Re-verification of any connection or service
How to get a Biometric Verified SIM in Pakistan
Any SIM card which is in use without a Biometric verification is automatically blocked. To avoid facing this hassle and to ensure your safety, make sure you are using a SIM connection that is recognized by the PTA Biometric Verification System.
That wraps up our guide to the SIM information system and its process, for more information regarding PTA registration and blocking, you can also get your concerns with the mobile operator for which you can call the respective helpline number for your particular SIM card connection.
JAZZ/WARID Helplines
Helpline Mobile: 111 / 321
Helpline Landline: 111300300 / 111111321
TELENOR Helplines
Helpline Mobile: 345
Helpline Landline: 111345100
ZONG Helplines
Helpline Mobile: 310
Helpline Landline: 111222111
U-FONE Helplines
Helpline Mobile: 333
Helpline Landline: 111333100
Also read about:
Why you need to pass the Oracle 1z0 1062 20 Dumps 2021
SEO value How to make journalists work best for your website
do you Think that SEO is a dying industry why or why not